Gorgeous Bridal Accessories for your Dream Wedding
There are many bridal accessories to choose from, and this can seem overwhelming. Accessories are the details that can enhance your wedding outfit with a touch of elegance or to fit with the overall wedding theme.
There are so many artfully designed accessories worth considering, even if your look for the day is minimalist. Everything from statement jewelry to customised heirloom garters can make your outfit fabulous.Feel free to choose whatever makes you feel beautiful on your wedding day. Here are some of the bridal accessories to consider for your dream wedding:
Wedding Jewellery
Statement necklaces, chandelier earrings, tiaras and other headpieces, a bejewelled sash or belt, a jewellery set or a single bracelet, these are just some ideas you may want to think about to compliment your wedding outfit and highlight your best points as well as keeping with the theme of your big day. Remember to match the base metal colour to the embellishments in your wedding dress for best effects.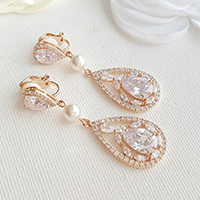 A beautiful set of earrings will draw attention to your face, so choose statement pieces, with colourful gemstones for accents that tie your look to your wedding theme. You can also consider pearls, crystal or diamond studded pieces on silver or gold for a conventional look. When choosing earrings, do not forget to
With necklaces, find one that will enhance your overall look. Embellished neckpieces look good with strapless and deep necklines, whilst a simple necklace is good for dresses where the bodice and neckline of the dress is ornate, choose a simple necklace. Also, match the proportions of the necklace with your earrings, which means a heavy necklace is best paired with small, understated earrings.
Veil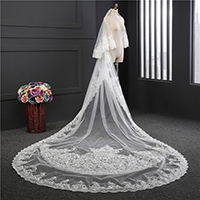 The choice to wear a veil or not is a personal one and there are many choices. A birdcage veil covers only some or all of the face and works well if you're rocking a 1950s or 1960s look. The flyaway veil is a wispy, multi-layered veil which brushes the shoulders at its longest and is a bit stiffer adding volume as it doesn't sit close to your skin. An elbow veil endds just above the elbow, being both elegant and practical and it works with any hairstyle. The fingertip veil floats around the body like a cape and extends to the fingertips. Great with any long dress, it is ideal for petite brides, but can get in the way if you will be dancing all night. A waltz veil usually ends about the ankle and is worn with a double layer and is not often seen, though it holds a lot of drama. The sweep veil and the chapel veil reach the floor or close to it. They are both perfect with flowing gowns and floor-length trains. Finally, the most dramatic is the cathedral veil as it usually extends up to five yards beyond the gown's train and for added effect add a jeweled hairpiece.
Headpieces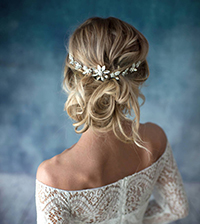 A bridal hair clip is great if you want to let your hair down after the marriage ceremony. They are usually jeweled, coming in a range of colours and designs. Alternatively, a hair comb can create an accent to an up-do or embellish a simple veil. For the princess look, a tiara with or without a veil works with both up-dos and loose hair. For a vintage touch a fascinator can add an individual touch.
A flower crown is perfect for a rustic or casual wedding theme. Headbands also work well, particularly for those with short hair where other headpieces are not possible. Whichever you choose, make sure it is comfortable to wear for hours.
Wraps and boleros
Particularly popular for autumn and winter weddings, a bridal bolero covers the upper body, providing modesty during the marriage ceremony. Sheath dresses are the best style to wear with a bolero, but they also work for A-line and ball gown as well.
Gloves
Gloves can finish at the wrist (perfect for long-sleeve dresses) or below the elbow. An elbow glove generally has an even number of buttons, between six and ten, depending on the length required and can be found in a fingerless style. If you have a sleeveless or strapless bridal dress, opera gloves are glamorous as they cover some of the upper arms have up to 16 buttons. All you need to do is pick a material close to that of the dress, whether that be satin, spandex, tulle, voile or lace.
Bridal Shoes
You'll want glamorous shoes, but not at the expense of comfort. Wedges and flat shoes are best for a beach or lawn wedding ceremony and only wear heels if you know you can handle the height in your wedding gown. You can choose to wear heels for the ceremonies and switch to flat shoes after the photographs and when you are ready to relax.
Wedding Garter
"Something old, something blue, something borrowed, something blue" is a popular wedding tradition you may want to incorporate into your celebrations. If you want to include something blue in your wedding attire, a garter is the perfect accessory. These can customised to match the personality of the bride, being geeky, cheeky or conservative. If you want to flaunt the garter, use satin, silk or lace for a more intricate design or create an heirloom garter using material from the wedding dress of an honoured family member.
Wedding Anniversary Gift Ideas can be found here.