Wedding Hairstyles to Last all Day
A bride wants to look fantastic at all times on her wedding day, a day she is likely to have dreamt about or at least been planning for, for a long time. Having a hairstyle that lasts into the night needs some planning to be sure that by the end of the evening it is not looking limp and unintentionally messy.
These are some hairstyles that will hold up for wedding celebrations, that will look great until the last song.
Bridal Braid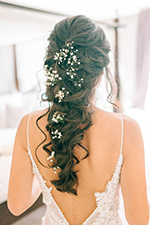 The braided bridal hairstyle has become on trend in the past couple of years, with many variations. Whether your hair is short, long, curly or straight, it will look good in a braid that is anything from soft and romantic, to classic with a modern twist. These styles are both whimsical, timeless and fun.
A bonus of having a braid is taking your hair down after the reception and having waves throughout your hair for any post-wedding festivities or the flight on your way to the honeymoon the next day. You can have a braided crown across the top of the head to a fishtail braid falling over one shoulder that look romantic and regal.
Half-up, Half-down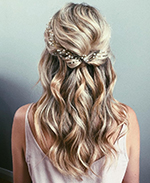 The half-up, half-down look is great for a polished and feminine style. The updo is polished whilst the hair that is down has a sexy look. The half-up styles are great for any dress, but are particularly nicely balanced with spaghetti-straps and strapless dresses. The style also straddles the line between casual and formal, which can see you through your entire wedding day, making it perfectly low maintenance.
An extravagant Updo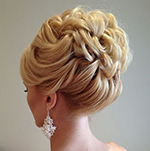 You may want an exceptionally extravagant hairstyle, perhaps a bouffant in the front, French twist at the back, and as many hair accessories your head can cope with. This is all possible, if you take some precautions to be sure everything stays in place. The key to this is pins and strong hairspray, but not so strong that your hair looks too stiff or crunches when touched. A few strands of hair that do escape throughout your wedding day will not be a problem.
Bedhead Chic
If you have hair that refuses to do what it's told, insisting on its own unique style, then the wisest course of action is to embrace this and choose a messy-chic style. This could be a loose bun, a bohemian braid or just left alone in waves for a casual and carefree feel. Bedhead chic can also be created with the help of a good stylish if you want this particular look.
Ballerina Bun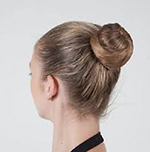 For a more formal look, hair that is slicked back into a bun is modern sophistication. This is the best choose for a bride who likes the minimalist look and wants hair up and out of the way. This is a style that is classically beautiful whether the bun is on the top of the head or the nape of the neck. Considering it is a ballerina bun, you can be sure your hair will not be going anywhere.
Extra hints and tips
If you are wearing flowers in your hair, add them no more than an hour before the ceremony so that they look their best, since they wilt quickly, particularly on hot summer days. A last-minute touch up can see you walk down the aisle with perfect style.
Your hair will naturally relax over time. This means that if you want to have a loose curl look, you need to start the morning with tighter curls. If you start the day with loose curls there is the possibility the hair will be a little took straight at the actual marriage ceremony.
Freshly washed hair can be too soft and not hold volume. When seeing the stylist, visit with dry hair that you have washed the previous day since "day two" hair has more texture so is easier to work with.
If you are wearing a veil, test this out at home, so you know how it shifts over a few hours, and to check that it stays comfortable. Your stylish will be able tweak the style so you don't feel a thing.