How to find the perfect wedding dress for your body type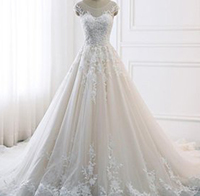 When you are looking for your wedding dress, it is likely you have a dream gown in mind. However, knowing the best wedding dress for your body type will help make your appointment at the bridal store that much more relaxed. Here, we help you narrow down the options before you begin, whether you want to balance a pear-shaped bottom or add curves to a lean physique so that you feel fabulous on your special day.
It is worth bearing in mind that few women have a single body type that best defines their figure, so trust the person in store helping you choose and do not be afraid to try on gowns they suggest that may be outside of your original specifications. Shop with people who you trust to say "no" to the dress that isn't right for you and make it even easier for yourself by having your hair in the style you want for your wedding day.
Petite body type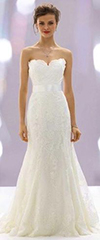 Minimalist works best, since big, meringue style wedding dresses overwhelm a small frame. Chiffon gowns elongate shorter legs as they often start at the upper waist. A chiffon gown that skims the floor when you wear heels will instantly add inches.
Adding wide straps on a plunging V-neckline gown draws the eye upward elongating the frame. An empire waistline also elongates the body. Choose to decorate your dress with intricate embroidery, light beading and one-dimensional appliques, so they do not overwhelm the dress.
Mermaid dresses can also flatter petites due to the dropped waist and a slim structured skirt.
Plus-size body type
A basque waistline enhances a bride's hourglass figure. They are now designed be comfortable and they instantly trim inches from your waistline. If you need a bit of help shrinking or shaping your midsection, a corseted gown offers adjustable support for all body types.
Long sleeves can slim heavier arms and can alleviate any worries about bra bulge at any point of the day. Even sleeves of sheer lace can act as a delicate cover up and hide any stretch marks. As a bonus, long sleeves are on trend for fashion-forward brides, as well as those looking for a more traditional style.
Busty body types

If you are a busty bride, you can choose to conceal or reveal, which means finding the perfect neckline.
Wide straps are a great option for brides who need support for a fuller bust, especially if they plan to dance the night away. If you love a sleeveless dress or one with spaghetti straps, it is easy for a tailor to add wider straps.
A square neckline looks great on almost anyone, but it is particularly good for women who are well-endowed because it is not too revealing.
Add some modesty lace to a sweetheart neckline to keep your cleavage in check.
Lean and tall body types
Floor-length gowns were made for those who are lean and tall, so there are many design options for brides to be. If you prefer, mermaid dresses can add curves to those without voluptuous curves.
A sheath dress softens a muscular frame, making it perfect for athletic types as well as lean body types. These dresses softly hang from the body and provide a feminine touch and will elongate a bride's body.
A sheath can include intricate geometric design details or contouring seams that create imaginary curves. This style of dress also allows for a slit or illusion panels to show off great legs.
Hourglass body types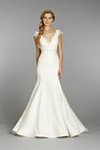 Be as demure or as sexy as you like. With an hourglass figure, you can show off you trim middle and your womanly curves in a bodycon bridal gown or hide your hips in a big ball gown. A fully fitted gown will hug every inch of your body like a tight glove, leaving nothing about your shape to the imagination if you are confident enough to flaunt what you have.
Fit-and-flare is the phrase for the curvy girls go-to silhouette. A sparkling belt detail can highlight a small waist or try a true mermaid silhouette with a style that flares out just below the knee.